Welcome to Amicats Coon Maine Coon Cattery. We're a Maine Coon Cattery that strives to breed & place quality well socialized
Maine Coon Kittens to loving homes. Our Maine Coon cats represent strong American bloodlines as well as European bloodlines.
We value their feral look as well as their ability to understand human emotion, their clown like behavior, their intelligence, & their gentle personality. Oh, & let's not forget the companionship & assistance with all daily task & activities that this breed is known for.A 15% DEPOSIT is needed to RESERVE a kitten (unless previous arrangements have been made), we accept postal money orders & cash but do NOT accept personal checks. All kittens are generally ready to go to their forever home around 11 - 12 weeks of age & will already have three sets of vaccinations, two vet visits, a dose of Revolution (applied on the day they leave us), & at least three rounds of worming medications. We have worked really hard to make sure that everything in the best interest of our cats & KITTENS has been done to insure the life long health, happiness, & wellness of each & every AmicatsCoon.
Information for all Amcats coon kitten/cat owners is routinely posted on the Face Book Page.
Facebook https://www.facebook.com/petclube/

***NO BREEDING RIGHTS KITTENS WILL BE SOLD, KITTENS WILL ONLY BE SOLD AS PETS & A SPAY/NEUTER/NO DE-CLAW AGREEMENT MUST BE SIGNED***

~~~~~~~~~~~KITTEN CARE~~~~~~~~~~~
Now that you've finally found your kitten it's time to prepare for his or her arrival. There are items that need to be purchased, a little cat proofing to be done, & decisions that need to be made ahead of time so that your kitten's homecoming goes smoothly & is as stress free as possible.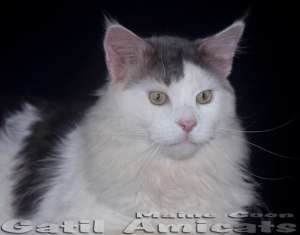 Schedule An Appointment With
Your Veterinarian

Your kitten will need to be examined by your veterinarian within 48 hours of leaving our care (as stated on the sales contract) or the health guarantee will be void. A HEALTH INFORMATION SHEET will be provided for your kitten detailing the vaccinations given, dewormer medications administered, & any flea protection applied (we use REVOLUTION). Please make sure to give this sheet to your veterinarian so he or she can continue to provide your kitten with the quality healthcare he or she is accustomed to.



Purchase Kitten Food

Your kitten has been eating high Premium. We did lots of research on what kittens & cats need in their diets to maintain exceptional health & avoid Feline Urinary Tract Disease (FLUTD). A feline diet that is too high in carbohydrates & magnesium, and low in protein can lead to FLUTD. The challenge was to find a cat & kitten food that was appealing to all of our maine coons, that contains the proper amount of protein & magnesium, & has no by products.


Purchase Stainless Steel Bowls
& or Water Fountain

Your kitten has been eating & drinking out of stainless steel bowls. Why stainless steel - stainless steel does not absorb smells, does not stain, & is easy to clean & disinfect....plus your kitten will be less likely to chew on stainless steel bowls than plastic, & they will not break like glass or ceramic either. Our older cats enjoy their stainless steel water fountain. Please remember that Maine Coons love water & a fountain will provide countless hours of entertainment & enjoyment for your kitten.




Purchase A Litter Box & Litter

Your kitten has been using an open pan litter box with. We prefer open pan litter boxes because we scoop at least two times a day & like the ease of access. All of our maine coon's litter boxes (kitten litter boxes are in the nursery) are housed on our screened potty porch that they access through a cat/dog door so we really do not have a need for the litter boxes with tops, hoods, & or covers for out maine coon cats. However, we do use a modified type of litter box (that's covered) in the nursery that allows kittens to access & mom no entry - our kittens use the modified litter box until they're about 8 or 9 weeks of age. Then they graduate to an open pan litter box that's placed in an area only they can access. Should you choose a covered litter box remember to scoop it regularly & know that it can trap humidity as well as the smelly odor that your cat might find undesirable - which could lead to him or her pottying somewhere else. Cats & kittens tend to like what they are use to as far as litter is concerned. We're back to using Tidy Cats Instant Action Scoopable Litter after using pine pellets for a while.....mainly because of time constraints. Pine pellats are fine to use. Remember, if your cat or kitten is not happy with the litter box for any reason he or she might be inclined to potty else where. NOTE: cats/kitttens prefer litter boxes & digging so if they potty else where they're trying to tell you something!! Litter boxes & litter are personal choices just make sure your kitten agrees with your choice. :)




Grooming Supplies

Your kitten will need just a few grooming tools like a metal comb, a brush, a dematting rake, & cat nail clippers. Remember de-clawing is NOT an option (as per our sales contract), so please purchase the nail clippers & keep your kittens nails clipped.




Cat Trees, Scratching Post, Puzzles,
& Toys

Maximize your kittens health through play. Cat trees, cat towers, & tall scratching post will allow your kitten to get the stretching they need & also give them a SAFE place to go during their rest time. Puzzle toys can be used to dispense food slowly throughout the day, requiring your kitten/cat to solve the puzzle to get rewarded with a food treat. Interacting daily with your kitten will help your kitten not only maintain a healthy body but a healthy mind too. Stress can develop when a kitten's environment is not similar to their natural environment & play helps minimize some of the key differences & stress points.
Your home is about to become a wonderland for your kitten. Please take the time to tidy up & remove any unnecessary power cords & unplug exposed cords of electronics that aren't in use so that your kitten won't be tempted to chew on them. Keep laptops, cell phones, ear plugs, eye glasses, belts, handbags, shoes, etc. picked up too because so many items that most homeowners leave out on a regular basis can & will become items of interest to your kitten. Also, take the time to make sure any toxic products & plants are removed from you home. The following items need to be removed or at least put in a place (locked away) that your cat can not access: acetaminophen, batteries, chocolate, raisons, grapes, currants, onions, leeks, chives, garlic, macadamia nuts, xylitol (sugar free sweetener found in chewing gum, breath mints, & toothpaste), unbaked bread dough, yeast, detergents, household cleaners, bleach, lysol, windshield wiper fluid, antifreeze, insecticides, herbicides, rodenticides, fertilizers, kerosene, de-icing salts, aloe, azaleas, chrysanthemums, marijuana, mistletoe, poinsettia, rhododendron, tulips, jimson weed (devil's trumpet), lillies, sago palms, tobacco, mothballs, & zinc (metal & coins). These household items can possibly choke or strangle your kitten: chicken bones, dental floss,
Q-tips, yarn, string, holiday decorations (including lights & tinsel), & toys with small movable parts.