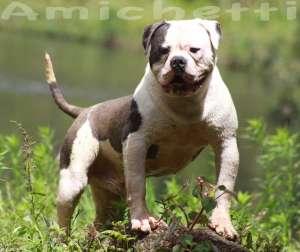 Antigo Bulldogge Inglês / Olde English Bulldogge
DESCRIÇÃO DA RAÇA E INFORMAÇÕES Temperamento
Cão de segurança, adora crianças, temperamento amigo e confiavel, veneração pela familia .
Canil Destaque: Criador Petclube de Juquitiba SP Brasil
wthasapp Venda de filhotes de bulldogg F 11 99386 8744 hc
Pedigree Petclube
Nos últimos 30 anos ou mais, vários criadores de todo o mundo têm tentado valorizar o antigo Bulldog,
pois é um cão que possui as qualidades de rusticidade muito mais firmadas que sua versão atual de pistas.
O antigo Buldogue Inglês, ou Old English Bulldog, cão de guarda e trabalho que sobreviveu até o início do Século XX, possui uma enorme legião de admiradores em todo o mundo, graças a sua rusticidade, agilidade e funcionalidade.
Versões de Olde Bulldogge tem sido selecionadas e desenvolvidas por criadores , dentro de seu próprio programa e padrão:
Olde Bulldogge Leavitt
O cão conhecido como The Olde Inglês Bulldogge é o produto do programa de melhoramento lançada pelo Sr. David Leavitt da Pensilvânia em 1971. Sr. Leavitt amava a natureza da raça Bulldog, mas estava profundamente preocupado com as limitações físicas da raçado bulldog de pistas, conhecido também como bulldog inglês. Com grande conhecimento sobre a história da raça e genética, o Sr. Leavitt embarcou em um ambicioso programa de melhoramento visando recriar o estilo antigo Bulldog.
Depois de muitos cruzamentos cuidadosamente planejados com raças como Bullmastiff , American Pit Bull Terriers e American Bulldog , o Sr. Leavitt alcançado seu objetivo, quando a raça foi conhecida como o Olde Bulldogge Inglês, a fim de diferenciar a sua linhagem da população maior de OEBs, ele resolveu renomeá-lo para o Bulldog Leavitt. Depois de frustradas tentativas de convencer os membros do conselho OEBKC a concordar com a mudança de nome, o Sr. Leavitt renunciou ao seu cargo como presidente em 07 dezembro de 2005 e, recentemente, formaram a Associação Leavitt Bulldog
Renascence Bulldogge
O Renascence Bulldogge Kennel Club foi iniciado por Chadde Jolicoeur Willingham e Jody quando tornou-se frustrado pela falta de uniformidade e coerência na recriações Bulldogge, sendo atualmente cinhecido com nome de Olde IBulldogge.
Olde Bulldogge Vitoriano
O Olde Bulldogge Vitoriano, ou OVB como é vulgarmente conhecido, é uma linha criada por Carlos Woods of My Bulldogges / Madeira Bulls na Carolina do Norte.
O Olde Bulldogge vitoriano está sendo produzido e apresentado como na época vitoriana.
O OVB é um cão de pêlo curto com um tronco largo. Ele tem cabeça grande, com ossos grossos que não impedem seu pleno vigor.
O Bulldogge Olde vitoriana é leal, corajoso e deve ter um temperamento estável.
Olde English Bulldogge
O Old Bulldog é um cão musculoso, de tamanho médio, grande força, estabilidade e capacidade atlética.
O Old English bulldog, ou antigo bullfog inglês é bem equilibrado e proporcionado.
o Antigo bulldog inglês tem a aparência de um cão capaz de fazer o seu trabalho original, bull baiting.
A cabeça OEB é proeminente e dramática. As bochechas são grandes, bem desenvolvidos e mostra os músculos de poderosa mandíbula. O crânio é grande, mas bem proporcionado de corpo musculoso e ombros proeminentes. O focinho é quadrado, largo e profundo, com angulação definida. A mordida é prognata Os dentes caninos são grandes. As narinas são largas, com uma linha traçada verticalmente do nariz até a parte inferior do lábio superior. O nariz é grande e ampla em relação à largura do focinho. O nariz é de cor preta. As orelhas são rosa, botão ou tulipa, com preferência para rosa. As costelas são bem arqueadas e arredondado. Ombros para pernas dianteiras são bem musculadas. Quadris e coxas são fortes e musculosos. Os posteriores são bem musculosos e ligeiramente mais longo que os anteriores. A cor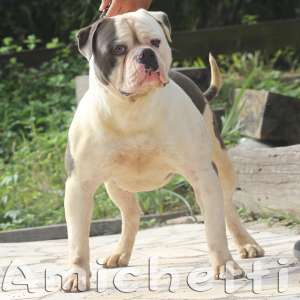 pode ser tigrado, vermelho, cinza, castanho ou preto, ou piratas
Temperamento Amigo
Olde Inglês Bulldogges tem temperamento dócil, mas é capaz de ser protetor, corajoso e atlético, de aparência feroz, determinada e corajosa, ousada e amigável em torno de sua família e amigos, mas um adversário sem medo a qualquer um que ameace seu dono ou propriedade. Altura, peso
Altura: Machos - 17-20 polegadas (43-51 cm). Fêmeas 16-19 polegadas (40-48 kg.)
Peso: Machos - 60-80 libras (27-36 kg.) Fêmeas - 50-70 libras (22-31 kg.)
Olde Inglês Bulldogges vai se adaptar a quase qualquer estilo de vida.
Exercício
Esta raça precisa ser levada para caminhada diária ,são igualmente felizes com o exercício moderado. Eles podem ficar em boa forma com exercícios leves.
Expectativa de Vida : 11 anos ou mais.
Preços
Cães com qualidade superior, com linhagens mais modernas, mais compactos, fortes e com bastante cabeça tem valores á partir dos r$ 5000,00 para cães de companhia até r$ 8000,00 .
http://www.petclube.com.br/bulldog-olde-english-bulldogge.html
Thank you for visiting our website! Here at Petclube Bullies we pride ourselves in producing high quality Olde English Bulldogges. We are a small breeder located inJuquitiba SP BR. Our Olde English Bulldogge family boasts great blood lines with a variety of pedigree ancestry. The Olde English Bulldogge breed is one we have come to love and enjoy. Their athletic build makes them great companions for all lifestyles; while their relaxed spirit allows them to be content while calm. We have three boys that love to play with our dogs; this is a testimony to how loving and gentle an Olde English Bulldogge is with children. Our Bulldogges are our pets, and they are members of our family. One of the benefits of having our dogs is to share the joy they bring with others. It is a pleasure to see puppies go to homes where they will be loved and appreciated. Thanks for considering Petclube Bullies in your search for a new family friend. Feel free to call or email us anytime; we are happy to answer any questions you may have.
Olde English Bulldogge Height:
Males: 17 - 23 inches
Females: 15 - 21 inches
Olde English Bulldogge Weight:
50 - 120 lbs.

Olde English Bulldogge Coat:
Short

Olde English Bulldogge Temperament:
Stable, trustworthy, and great with Family and children.
Olde English Bulldogge Health Issues:
Very healthy; should not have the many health problems of the English Bulldog
WE RECOMMEND USING NUVET FOR YOUR FAMILY FRIEND!
CLICK THE LINK BELOW
CLICK HERE

International Olde English Bulldogge Assoc. (IOEBA)

CHECK OUT OUR PUPPIES FOR SALE!
BREEDINGS PLANNED!
BULLIES
LDE ENGLISH BULLDOGGE - OLDE ENGLISH BULLDOGGE PUPPIES - OLDE ENGLISH BULLDOGGE PUPPIES - OLDE ENGLISH BULLDOGGE BREEDER - OLDE ENGLISH BULLDOGGE BREEDER Best Temperamente - BULLY PUPPIES - OLDE ENGLISH BULLDOGGE for sale - OLDE ENGLISH BULLDOGGE for buy- OLDE ENGLISH BULLDOGGE PUPPIES in usa &brasil -
GUARDIAN GROUP (UKC Standard as of January 1, 2014)

Breed Standard
Click photo for larger View
HISTORY
Bulldogs were created for the English sport of bull baiting, practiced from approximately 1100 until 1835. By the middle of the 1800's, the sport was no longer legal, and the athletic bulldog quickly began to disappear. Because the bulldog was revived solely for the conformation venue, selective breeding for appearance severely compromised the health and lifespan of this once agile, athletic and happy breed.
In 1971 a breeding project began using a linebreeding scheme developed by Dr. Fechimer of Ohio State to rapidly achieve a purebred dog. The goal of this project was to return the bulldog to the appearance of the "Regency-Period" bulldog, now named the Olde English Bulldogge (OEB) to clearly differentiate the new breed from the modern English Bulldog.
Today's Olde English Bulldogge matches the looks of the bull baiting dog of the early 1800's. They are, first and foremost, excellent companions, while also possessing the drive, temperament and agility to perform in numerous working venues as well as being service dogs. The revival of a healthy dog with the longevity to live well into its teens is a primary goal.
The Olde English Bulldogge was recognized by the United Kennel Club on January 1, 2014.
GENERAL APPEARANCE
The Olde English Bulldogge is a muscular, medium sized dog of great strength, and possessed of fluid, agile movement. He is well balanced and proportioned, while appearing capable of performing without any breathing restrictions in either heat or in cold.
Disqualifications: Unilateral or bilateral cryptorchid.
CHARACTERISTICS
The disposition of the Olde English Bulldogge is confident, friendly and alert. An OEB should be an animated and expressive dog, both in and out of the show ring.
Fault: Shyness in a mature dog.
Disqualification: Viciousness or extreme shyness.
HEAD
Serious Faults: Excessive wrinkle, lack of pigment around eyes, nose or mouth.
SKULL – The skull is large and well-proportioned to the dog's muscular body and prominent shoulders. There is a defined furrow from the stop to the occiput.
Serious Faults: Narrow skull; domed forehead.
MUZZLE – The muzzle appears square, wide and deep, with definite layback. Distance from the tip of the nose to the stop does not exceed one-third of the distance from the tip of the nose to the occiput. Flews are semi-pendulous.
TEETH - Bite is undershot or reverse scissors. Lower jawbone is moderately curved from front to back. Broken, chipped or extracted teeth are not to be faulted. Exposed canine teeth are to be faulted.
Disqualifications: Wry jaw; overbite.
NOSE - Nostrils are wide, with a line running vertically between nostrils from the tip of nose down to the bottom of the upper lip. Nose is large and broad in relationship to the width of the muzzle. Nose color is black.
Serious Fault: Slit nostrils.
Disqualification: Any color nose other than black.
EYES - Eyes are medium in size and almond shaped. They are set wide and low, level with the top of the muzzle. Color is dark to light brown, with black pigmented eye rims.
Disqualifications: Any eye color other than brown; wall eyes; crossed eyes.
EARS - Ears are rose, button or tulip. Rose is preferred. They are set high, wide and to the back outer edge of the skull. The ears are small in size.
NECK
The neck is medium length, wide, and slightly arched. It is slightly smaller than the head at their junction, and widens to point of the shoulders. Loose from jaw to chest, forming a double dewlap.
FOREQUARTERS
Shoulders are broad, heavily muscled and have a separation between the shoulder blades. Moderate angulation of the shoulder blade, which should also be roughly equal in length to the upper foreleg.
ELBOWS - Elbows should be neither in nor out.
FORELEGS - Forelegs are of medium bone, set straight, with strong pasterns.
BODY
Sturdy, powerful and slightly rectangular when viewed from the side. Chest is wide and deep, with a muscular brisket, and ribs well-sprung. There should be a distinct tuck between ribs and hindquarters. There is a dip behind the whithers; topline rises over the loin with the appearance of a slight roach.
Faults: Narrow rib cage.
HINDQUARTERS
Hind legs are well muscled and have the appearance of being slightly longer than the forelegs.
Viewed from the rear, the hind legs should be straight, parallel and set apart. Angulation is moderate.
Fault: Cow-hocked or bow-hocked.
FEET
Feet are strong and rounded, with well-arched toes.
Faults: Flat feet or splayed toes.
TAIL
The characteristic tail is often referred to as a crank or pump handle tail. Straight tails are also acceptable. The tail is set on as a natural extension of the topline, and tapers to a point. When the dog is relaxed, the tail is carried low and extends approximately to the hock. When the dog is moving, the tail is carried level with the backline. When the dog is excited, the tail may be carried in a raised, upright position (challenge tail), but never curled over the back (gay tail).
Faults: Tail curling 360 degrees or carried up over the back.
Disqualifications: Kinked, docked, natural bob, or screw tail (a kinked tail is a tail with one or more sharp bends).
COAT
Coat is short, close and of medium density. It should be shiny, showing good health.
Faults: Fringe, feather or curl in the coat.
COLOR
Accepted color patterns include brindle, and solid colors, with or without white.
Brindle is defined as a fine streaked or striped effect or pattern of black or tan hairs with hairs of a lighter or darker background color. Shades of colors accepted include red brindle, fawn brindle, brown brindle, and grey brindle; either solid or pied.
Accepted solid colors include white, fawn or red; with or without white.
Disqualifications: Albinism. Blue, black, and black with rust /mahogany/tan trim.
GAIT
At a trot, the gait is smooth, powerful, energetic and confident. A slight roll to the gait should not be faulted. Footfalls approach the centerline as trotting speed increases.
When viewed from the front or rear, the legs turn neither in nor out, nor do feet cross or interfere with each other. From the side, the front legs should reach out smoothly with no obvious pounding.
HEIGHT AND WEIGHT
Overall balance is never to be sacrificed in favor of size.
Dogs should be 60 to 80 pounds, and 17 to 20 inches at the withers. Bitches should be 50 to 70 pounds, and 16 to 19 inches at the withers.
Neither dog nor bitch appears fat. Measurements apply at age 2 or older. Weight of both dog and bitch should be proportionate to height.
DISQUALIFICATIONS
( A dog with a Disqualification must not be considered for placement in a conformation event, and must be reported to UKC.)
Unilateral or bilateral cryptorchid.
Viciousness or extreme shyness.
Albinism.
Wry jaw.
Overbite.
Any color nose other than black.
Any eye color other than brown.
Wall eyes
Crossed eyes.
Kinked, docked, natural bob, or screw tail (a kinked tail is a tail with one or more sharp bends).
Facebookhttps://www.facebook.com/petclube/
Youtubehttps://www.youtube.com/channel/UCWTOIIFQdl7oSCLpZJWaDjA
OLDE ENGLISH BULLDOGGE PUPPIES - OLD ENGLISH BULLDOGGE PUPPIES - Old bulldog puppies