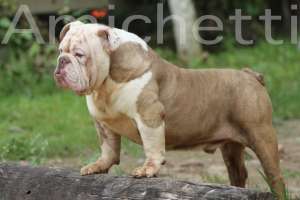 English Bulldog puppies for sale for you and your family. His knowledge of the Bulldog breed is second to none and his family, just like ours, has truly dedicated their lives to improving and breeding high quality bulldogs. If you have any questions or conerns, please don't hesitate to ask.
TRICOLORED Bulldog GENE MUSCLE
Amichetti
For over 25 years, It's a Bulldog Thing has offered healthy, happy Bulldog puppies from our loving home into yours. Based in Juquitiba, São Paulo Brasil and Virginia, we at 'It's a Bulldog Thing' are devoted to the Bulldog breed. We strive to give our Bulldogs a new home where they will be loved just as much as they are with us.

Here at 'It's a Bulldog Thing', we adore our Bullies and treat them like family. Caring for and nurturing them has been our passion for the past 20 years. We take great pride in our facilities to provide all of our dogs with a healthy and safe setting.

English Bulldogs are very clever, entertaining, and very loyal. One of their best traits is the love and attention they crave from their owners. We would love to see one of our Bulldog puppies become a new member of your family.

TRICOLORED BULLDOG GENE MUSCLE BULLY
Amichetti Kennel
Facebookhttps://www.facebook.com/profile.php?id=100006118369229
Youtube https://www.youtube.com/channel/UCWTOIIFQdl7oSCLpZJWaDjA