MODERN TRICOLORED PAXBLOOD AMERICAN BULLY
Siginificado de Paxblood: american bully tricolor muito musculoso, denso e correto
Located in San Paolo Brasil, has established recognized name breeding American Bullies. PETCLUBE is the Gottyline, descendent of Champion Gottyline's 21 BlackJack, the first dog registered with UKC as Gottyline and the winningest dog in Gottyline history. Home of PAX - the most sought after Tricolored Modern American Bully actually. PAX is the ideal Extreme Pocket Tricolored American Bully.
Due to PAX's popularity as a stud and and ability as a producer of quality Bullies, he has already had a huge impact changing the image of the American Bully. There has never been an American Bully like PAX. While we appriciate foundation Gottyline's and Godzilla line, we now look forward to the new era of American Bullies as we establish the PAXBLOOD.
If you are looking for an exceptional Bully in every way, there is none better than the new PAXBLOOD of American Bullies. If you want the best, come to the Source! the Original Gottyline.
OUR OBJECTIVE IS TO BUILD IPC International

AMERICAN BULLIES WITH LARGE BLOCK HEADS ,SHORT AND STOCKY AND COMPACT WITH MUSCLE AND LARGE BONE LIKE NO OTHER HAVE DONE,WITH THE PERFECT TEMPERAMENT. WE BREED FOR INTELLEGENCE AS WELL AS CONFIRMATION. OUR BLOODLINE CONSISTS OF GOTTYLINE TO A PERFECT BLEND.
OUR DOGS MEET ALL IPC STANDARDS
WE HAVE BULLY'S IN ALL COLORS FROM BLUE , FAWN TRI COLOR , BLACK CHAMPAGNE AND CHOCOLAT. THEY ARE AGILE, FIT & ENERGETIC, AND LOVE TO PLAY. THEY ARE GREAT WITH CHILDREN AND OTHER DOGS. OUR DOGS LIVE IN OUR STATE OF THE ART FACILITY. THEY ARE WELL TRAINED AND MANNERED. SOME HAVE COMPETE IN WEIGHT PULL, AGILITY, POLICE PROTECTION, AND DOG TRACKING. THEY CAN DO IT
ALL. JUST TO SHOW THE WORLD WHAT THIS BREED IS CAPABLE OF.
PEOPLE CALL AND ASK , HOW DO YOU GET YOUR DOGS SO THICK ? WHAT DO YOU FEAD THEM ?
​THE SECRET IS "TRICOLOR PAX
GENETICS"
Youtube https://www.youtube.com/channel/UCWTOIIFQdl7oSCLpZJWaDjA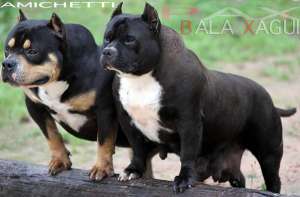 American Bully is a dog that was created in the late 20th century. They are often mistaken as an american stafford shire terrier, and all though the breed is descended from american stafford shire terrier, they do not conform to the american stafford shire terrier breed type. There is a kennel club, called the American Bully Kennel Club, tha is dedicated to American Bullys. The American Bully, which is a new breed was created from various bull breeds. This breed has been established since 1990, it was created to give a new direction and outlet for the breed. All the positive characteristics of the breed used were kept, like loyalty, stability with humans, and other impressive physical attributes. The traits of dog aggression and gameness were bred out of the breed, because the breed had no future purpose for those traits. A new style of breed was formed and is now promoted as the "American Bully". This breed still carries the ancestry of the "american stafford shire terrier" and other bull breeds and still has to deal with the reputation of that breed; but this is not the same breed. The event such as this are showing the world why this is a great breed, and changing public perception in mass numbers. These types of events help educate the public on the American Bully and why it is a great breed, and it also helped to break down negative stereotyping of both the breed and people. Modern Bully Video