PETCLUBE Rare Blue Staffordshire bull terrier Valglo carrier
FACEBOOKhttps://www.facebook.com/petclube/
Contrato de Compra e Venda, Pedigree IPC, Carteira de Vacinação, Garantia Petclube, NF.Sêlo Verde na Cinofilia.American Bully com Criação Sustentável e Ecologicamente Correta Digna.
History
The Staffordshire Bull Terrier is a member of the Terrier Group. The breed first came into existence around the 17th Century and was recognised as a breed by the Kennel Club in 1935. They were originally bred for bull baiting and dog fighting.
Today they are companions.
Characteristics
The Staffordshire Bull Terrier is a very active and intelligent dog and make wonderful family pets. Renowned for his courage they are very loyal and loving, especially around children. They prefer the company of humans rather than other dogs, because of the Stafford's great affection for humans, he does not make a good guard dog and does not like to be left alone for long periods of time.
The Staffordshire Bull Terrier has lots of stamina and thrives on plenty of exercise and affection. They can be quite boisterous so early socialisation and training is a must for this breed.
They have a fantastic sense of humour so never a dull moment with a Stafford!
Health
Although the Stafford is basically a healthy breed, there are 2 known inherited problems for which we are fortunate to have a DNA test. Hereditary Cataract (HC) and L-2-Hydroxyglutaric Acidurea (L2 –HGA.
When buying a puppy it is essential that you know the DNA status of both sire and dam for the 2 conditions (HC) and (L-2-HGA. Breeding from DNA tested clear stock means that all resultant progeny will be clear of the conditions. If one of the parents is a carrier for either condition, all puppies in the resultant litter should then be DNA tested by the breeder before they are sold, so that the individual status of each puppy can be determined.
If you are planning to buy a puppy please only ever buy from stock which is tested.Beautiful Blue Staffordshire Bull Terrier Puppies. Dogs and Bitches, all blue and blue and white parti-colour. Mum and Dad have super temperaments, are very sociable with people and dogs and have very loving natures. The puppies are currently 4 and a half weeks old. They are very outgoing and are well socialised with children already. They are up to date with worming now and will be ready to go at 8 weeks after first vaccination and last worming treatment.
Staffordshire bull terriers, also known as Staffies and Stafs, can be wonderful dogs who have made loving family pets through many decades.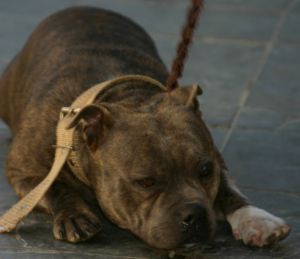 PETCLUBE Rare Blue Staffordshire bull terrier Valglo carrier
FACEBOOK https://www.facebook.com/petclube/
Follow our nation's relationship with Staffordshire bull terriers from the 1920s to the current day in our film. Find out how times have changed for these adorable dogs and get to know Staffies a little better.
Staffordshire bull terriers
Staffordshire bull terrier puppies have suffered a great deal from overbreeding and bad press in recent years and sadly, many have ended up in our care through irresponsible ownership.

However, Staffies can make wonderful pets and many of the Staffies in our care are well behaved, affectionate and playful.

To highlight the benefits of owning Staffies, and to promote responsible ownership, we launched RSPCA Team Staffy - a Flickr feed which allowed proud owners of happy, friendly and healthy Staffies to share their favourite pet pics.

Staffordshire bull terrier puppies for sale
If you're thinking of buying a Staffordshire bull terrier puppy make sure you're buying from a reputable breeder and are sure that you can provide the right 'forever' home for the puppy you choose. The Puppy contract website will provide all the guidance you need.

Or consider rehoming a dog from us. We have many breeds of dog (and cross-breeds), including Staffordshire bull terriers, in our care looking for loving new homes. All of our dogs are carefully paired with the new owners during the rehoming process to help ensure the perfect match. Our dogs will also be vaccinated, microchipped, neutered (where appropriate) and with six weeks' free pet insurance.
Google+:https://plus.google.com/+ClaudioAmichettiPetclube
whatssapp 11 99386-8744 hc Amichetti / 11 96393-1128 hc / info@petclube.com.br /amichettibully@gmail.com

Staffordshire bull terrier blue PUPS FOR SALE/ Petclube Sustentável: Orienta Criação de animais domésticos para companhia Facilitando a Preservação da Mata Atlântica com incremento no Lençol Freático e mitigação do Aquecimento Global.